Quality training, delivered by professionals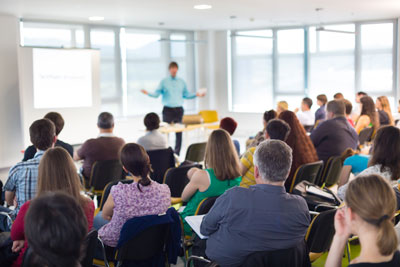 As an approved training centre, we can provide the training and support that your business needs in order to meet its legal requirements.
All course notes are regularly updated to maintain accuracy in line with the most recent legislative changes. This ensures that all candidates receive up-to-the-minute advice and information.
With nearly fifteen years of experience and accreditation from the relevant leading examining bodies, LSM guarantees quality and excellence on every course that we deliver.
Dedicated training facilities, or we can come to you
Our office in Market Harborough has dedicated training facilities complete with the latest technology and equipment, thus assuring you of the best possible standard of teaching. Alternatively, as all of our equipment is portable, we can bring the training session to you.
First Aid Courses
The Health and Safety (First-Aid) Regulation 3(2) states "An employer shall provide …such numbers of suitable persons as is adequate and appropriate in the circumstances for rendering first aid to employees if they become injured or ill at work."
LSM's First Aid Industry Body (FAIB) approved, first aid training courses are monitored to meet these requirements and approved code of practice. These run on a regular basis and include a full three day First Aid at Work course; a two day re-qualification course; a shorter, one day Emergency First Aid at Work course for lower risk workplaces or small work groups that do not need a fully qualified first aider and a half day refresher course for intermediate, existing first aiders.
LSM also delivers specialist courses for the care industries, schools and nurseries.
Fire Training
Fire is one of the major threats to any organisation, not just in terms of potential loss of life and damage to property, but also to the continued prosperity of a business. Prompt action upon discovery of a fire could make all the difference.
Our basic fire training is a 'hands on' course, giving a core knowledge of fire awareness to ensure staff are able to understand the basic principles of fire prevention and emergency procedures, and can identify, correctly apply and operate the various fire extinguishers and other associated equipment commonly found in the workplace.
We can also offer extended courses to include the principles of fire safety management and fire risk assessment.
Manual Handling
Under the Manual Handling Operations Regulations (MHOR), manual handling is interpreted as the transporting or supporting of any load, which also includes a person or animal.
All aspects of safe manual handling are covered within this essential training, with the emphasis on practical techniques i.e. methods of lifting and carrying, for those employees who undertake manual handling activities.
Where we deliver the course for a single employer or industry sector, we are able to directly relate to the known handling problems encountered within that workplace, thereby helping to reduce the risk of injury and costly absenteeism.
One of our specialities is providing lifting and patient handling training for the care industry
Risk & COSHH Assessment
LSM's Risk and COSHH Assessment courses provide both practical exercises and step-by-step application techniques to enable candidates to complete the process of Risk or COSHH assessments. Designed to equip candidates with the understanding and confidence to undertake their own assessments, these courses also cover how and where to source information that will help identify suitable control measures.
NEBOSH Courses
Designed for those with responsibilities for managing Health & Safety in the workplace, the NEBOSH (National Examination Board in Occupational Safety & Health) General Certificate in Occupational Safety & Health is a nationally recognised qualification and ideal starting point for those looking to pursue a career in Health & Safety. LSM trained delegates consistently achieve results above the national average and with many courses delivering a 100 percent pass rate, ensuring that LSM are the East Midland's leading provider of NEBOSH training.
This ten day course provides a working knowledge of current Health & Safety legislation including:
the principles of risk control and safety management;
hazardous substances;
the identification and control of hazards and risk;
fire prevention measures;
effective communication;
investigation of accidents/incidents;
compliance with general legislation.
IOSH Approved Courses
IOSH (Institution of Occupational Safety and Health) is the leading body for occupational Health & Safety in the UK and its courses are recognised by enforcement authorities, clients and other organisations nationwide. LSM offers two course options:
Managing Safely is a four day course designed to give supervisors and line managers the necessary knowledge and techniques to enable them to manage safely and effectively in compliance with both company policy and current best practices. Delegates will gain an appreciation of their legal responsibilities, as well as the techniques to bring about performance improvement and a reduction in workplace risk.
Working Safely is a one day course suitable for general consumption. Its aims to provide candidates with a basic understanding of their Health & Safety responsibilities, offer an insight into common workplace hazards as well as an overview of legal responsibilities to individuals and their employer.
Bespoke Courses
For more information regarding bespoke training courses, please contact us to discuss your requirements.
Contact us today to book one of our training courses or to find out more